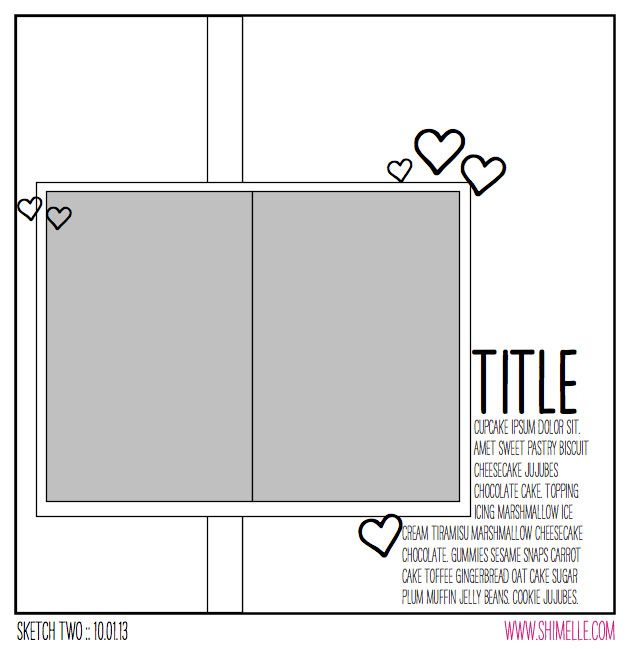 Here it is, the end of January, and I find myself still working on my Journal Your Christmas 2012 prompts. The beauty of JYC is that I can skip around and use the prompts as necessary. I am hoping to wrap up the layouts in February, but I must admit that I find myself revisiting some of the prompts again and again. If I don't finish 2012 next month, I'm not worried. I'll be doing JYC this December as well. I enjoyed my holidays this year and the prompts helped to bring out a few tales that might no otherwise have been told.
I have my DT assignments turned in, so with a little time on my hands, I decided to revitalize my creative juices before diving back into my latest assignments. Sketches are an easy way for me to do that. Nothing works better for getting you to feel creative than to actually just start creating something. I found myself drawn to another of Shimelle's creations, though as usual, I didn't completely follow the sketch to a tee.
Christmas Tree Catastrophe by Christy Strickler Supplies| Cardstock: Colorbok; Patterned Paper: Crate Paper; Alphas: Pebbles; Ephemera, Buttons: JBS Mercantile; Other: sequins
Shimelle's sketch calls for two 4x6 vertical photos. I instead chose to use two horizontal photos which I cropped down to squares. I could easily have rotated the sketch to accommodate those photos uncropped. However, really liked the sketch orientated this direction. When you use sketches, don't fight yourself about your photo choices. Simply choose what interest you and adapt the sketch around the photos. I added in more embellishments and extended the title and journaling just a bit.
The next time you are feeling less than creative, grab a few photos and a sketch, then pick a kit and just go. I used my JBS Mercantile January kit for today's layout. I was excited to play with newer supplies which led to excitement to get these particular photos scrapped. Creativity is a habit. The more you exercise it, the more creative you will feel. Now that I have done a couple of easy layouts, I no longer feel creatively drained.