Large photos are something I have been playing around with from time to time. Sometimes, the page works well for me.
Since I am talking about large photos today on MSE
, I thought I would share a quick round up which looks back at some of my pages which utilize larger photos.
This is one my my very first pages using an 8.5 x 11 photo.The layouts was created around August of 2012. I kept embellishing to a minimum both due to the size of the photo and the busy background. I placed small embellishment clusters and the title in blank areas within the photo.
My second large photo layout.
I created this page for an article from Get It Scrapped about using 3 photos on a page.
Contrary to the advice I gave in
today's MSE article
, I chose a grainy photo for my background. In many ways, the photo has been used as though it's a sheet of patterned paper with photos and journaling placed on top. I made sure to keep the photo's subject visible and only placed the title, embellishment clusters, photos and journaling in the expanses of white space.
I created this layout for LOAD215. The waterspout was a bit lost in a smaller size photo. Large was the only way to go.
Most of the layouts I shared featured an 8.5 x 11 photo. This one features a 5x7 picture as the focal point.
I am sharing tips about how I integrate large photos into pages and my thoughts about moving away from using just 4x6 prints on my layouts today on MSE.
Using large photos takes a little practice but is an excellent way to step out of your personal creative box. I am still not always comfortable with using bigger photos, but as with anything, the best way to learn is by doing.
Additional Resources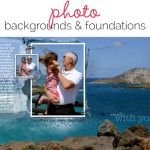 An Article from the Get It Scrapped Blog