Whenever I need a quick start to making a page, I turn to a sketch or a magazine ad. I like to collect them on
my pinterest board.
Sometimes I see an ad and I just know I want to make something with it. This was one of those ads.
I can look right at the ad and know just how the embellishments would fit in. The lady becomes a spot for a photo.The shoes become buttons,die cuts and brads. My text and title will fit in quite nicely.Be fore you know it, I have a completed page.
The page I am sharing with you today is chock full of inspiration.Not only did I use an ad,
I also used the weekly inspiration piece from Scrapbook News and Review magazine.
In the world of creativity,it's always ok to combine your inspiration.
A Firm Foundation
by
Christy Strickler
Supplies
Patterend Paper: my Little Shoebox; Alphas: Sizzix; Canvas Border: Little Yellow Bicycle; Die Cuts: Basic Grey; Buttons: Basic Grey, Crate Paper, Love Elsie; Brad: Sassafrass;Flower: Pink Paislee; Other: DMC floss, denim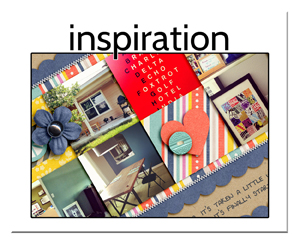 For more ideas on how to use the inspiration you can find all around you, check out Masterful Scrapbook Design's August Seminar.
Also check in weekly at the scrapbook News and Review blog for sketches, inspiration prompts and color palettes.