I have noticed that often, I have a tendency to collect a specific theme, pattern or motif. Sometimes, this is due to manufacturers flooding the market with specific images. It ends up in some of my kit clubs or I pick up a few items on my own. If you aren't careful, you can accumulate a large amount of one particular motif in a very short span of time.
The question with any motif or pattern is whether or not you will actually use it. Some trends, like chevrons, have been easy for me to use. They are in many ways a neutral item and can be incorporated into the telling of a variety of stories. Others, I just like but find that they have a more specific meaning and therefore, don't get used often. Woodland creatures fall into that category. I adore all of the cute animals but realistically, I have to ask myself how often can I or will I use a woodland creature on a layout. My goal is, after all, to create layouts and not to just hoard supplies.
Using a motif can be as simple as remembering you own the supplies. I try to make it a point to re-kit items or shuffle through stamp sets to make myself aware of what I own. Doing so brings awareness and helps me remember to grab the items and make use of them. I have been organizing my stamp sets recently, which brought some very cute birthday themed stamps featuring woodland animals. At the time I saw them, I wasn't too sure I would use them. I was even contemplating giving the set away. However, when it came time to document my son's first ever Valentine's Day party, I realized I had an opportunity to make use of them.
Valentines by Christy Strickler |Supplies Patterned Paper, Flair, Button, Die Cuts: Lilybee Designs; Letters: American Crafts; Stamps: October Afternoon; Pens: Ranger, Pilot Frixion; Ink: Tsukineko;Punch: Fiskars; Jewel: Making Memories;Twine: Jillibean Soup; Other: Cork
Using a motif doesn't mean you have to take it at face value. Sure, these stamps are intended for a birthday celebration. That doesn't mean they can't work for something else. By simply omitting portions of the stamps with birthday theming, I was able to use them here.The fox, for example. is pulling a wagon with a birthday cake inside. I cut off part of the stamp so that you can see a small part of the cake in the wagon. I chose a raccoon playing music and animals making invitations. Recoloring some of the items to match a Valentine's day theme makes these stamps work for this layout.
I didn't take a lot of photos of my son's classmates that day. He is almost always the focus of my attention. Both my son and his classmates made their own Valentines collection bags. I am able to tell the main story about my son while supporting it with the woodland animals. The animals take the place of the missing classmates in the photos.
I still have quite a few different motifs in my stash of supplies that I want to use up. Several are woodland animals. Cameras also have a large presence in my stash. It's going to take a combination of awareness, intent, and the ability to think about the supplies outside the box. Are you hoarding any specific motifs?
Supply Options
Additional Resources
learn design concepts with the Get It Scrapped Membership
Click here to view more details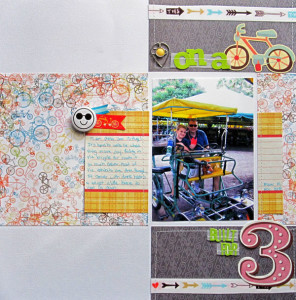 On a Bicycle Built for Three
stash busting the bicycle motif